We can't think of a better time of year to treat yourself to a big shopping trip than the summer and fall! With all that free time on your hands—especially in the form of paid time off—you can easily catch up on your wishlist and update your wardrobe for the season. The big question is just how to go about it! We have a few tips to remedy this and help you shop to your fullest potential while you have the time.
1. Update and/or Preserve Your Makeup
This may be the best opportunity to update and/or replace a few things in your cosmetic collection, especially where foundation and skincare products are concerned. However, even once you finish buying all that makeup, you'll want to keep it safe so it isn't a goopy puddle when you go to use it. How do you solve this problem?
First, think about your makeup needs. How often do you use it? Is it kept in a safe place where there's little risk of exposing it to direct sunlight? Depending on how often you travel with your makeup, you may want to invest in an organization system. Some of them actually come with temperature control options. Whether you're looking to get new makeup or protect what you already own, you just might want to pay a visit to the Ft. Lauderdale Galleria, which boasts a wide selection for the fashion-conscious.
2. Do Some Smarter Shoe Shopping
Like many people, you may encounter some foot-related issues during the summer—the smell notwithstanding. During these hot months, our feet tend to expand in size, meaning our shoes may not fit as well as they used to at any other time of year. If you've run into this problem before, it would serve you well to re-evaluate your shoe size before you make that next cute purchase. You may want to bump up the size anywhere from one to just half.
Just know that your normal shoe size may not cut it, though this depends on the material your potential new shoes are made from. Artificial materials aren't as pliable as its organic counterparts, such as suede and leather, meaning you'll have to get larger pairs of the former than you would the latter. You can always pick a great new pair of shoes over on Las Olas Boulevard and let those same shoes carry you down the sidewalks on a later trip!
3. Try A Whole New Style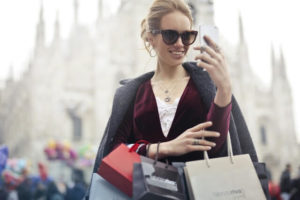 There's never any harm in experimenting with what you wear! How else would you find things you like? If you have a little money to burn, you could always take a trip to Westfield Broward and look for that special something. If your pocketbook is a little tighter than you would like, you can also opt for some DIY tailoring and turn your old clothes into something new and stylish. Try taking some old jeans and snipping them into an adorable pair of cutoff shorts!
We hope you're able to enjoy your summer shopping trip to its fullest! Visit us for some extra tips on shopping easily, whether it's during summer or any other time of year!